MBA (Master of Business Administration), a most popular/commonly management program, not only in India but also have gained popularity among youth worldwide. But the question is, can we enroll for MBA after grade 12? There are so many Institutions /Colleges / Universities or Organizations which have tie-ups with Apex level of authorized/registered bodies for this management program. Few of these educational bodies have procedure to enroll for MBA program is that you can enroll for this program after your graduation and few are offering Integrated MBA course of 5 years. That totally depends upon the availability of schemes under private/public Institutions. So, the answer for the question that a 12th-grade pass-out student can enroll for MBA or not is, Yes but it is totally depends upon the type of Institution you choose. Check out the links given below to get full information regarding Various management programs such as BBA(Bachelors of business administration), B.com (Bachelors of Commerce), and MBA(Masters of Business administration).
Selecting a Management college becomes a pain for you? Stop worrying and check out the best colleges for MBA/PGDM with collegesakha.com
You would be shocked after knowing the fact that there are almost 5000 + colleges across India which are providing Management Courses. An MBA aspirant can not look over all these Institutions and choose the best one. CollegeSakha.com will help you to find the Top colleges in India and nearby your location. We are helping you to find out the best colleges depending upon their government approvals, Ranks, Study materials, entrance tests, No. of seats, Fee structure, placement facilities, preferred Location, Year of establishment, and a brief comparative study of different colleges. Check out the below links to get your answer. We provide the best information regarding various courses to the aspirants.
This 2-year program is the best fit for someone who wishes to be in Marketing Firms, Management Fields, Media industries, or entrepreneurs. This qualification can open lots of fancy job opportunities for you and can help shape your carrier to a great extent.
ELIGIBILITY :
You can pursue an MBA after Graduation such as B.COM, BA, BBA, B.Sc., or even after B.Tech.
Although, getting admission into a top B-School is not a piece of cake. Every year more than 2 lakh students appear for CAT, from which only 5000 students are fortunate enough to secure seat into 20 IIMs.
To fulfill the basic criteria of MBA, students of the General category must have scored 50-55% in their degree program, and students who belong to ST, SC, and OBC category must score up to 45% in their degree program.
MBA program is offered by both Government as well as Private Colleges/ Universities.
Different colleges offer admissions based on entrance exams like CAT, MAT, SNAP, XAT, GMAT, IBSAT, IIFT, etc.
Government colleges offer admissions based on entrance tests like GCET, KMAT, RMAT, etc.
After clearing your entrance tests, you can check for which B-School you are eligible and apply can for the same. After which, you have to go through Group Discussion Round and Personal Discussion.
CAREER AND JOB: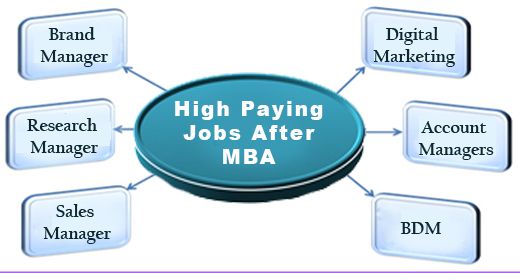 During MBA, you can choose your specialization fields like Human Resource Management, Rural Management, Sports Management, Media Management, Healthcare Management, Marketing Management, Hospitality Management, and much more.
After completing your MBA, there are several Job prospects available for you depending upon which B-School you graduated from.
Top B-Schools like IIMs provides the best on-campus job placement opportunities for their students. Your job opportunities may depend on the field of your specialization.
You may be appointed for the job profiles like an Account Manager, Brand Manager, Administrative Officer, HR Generalist Business Partner, Research and Development Managers at fancy packages, or you may even have your own start-ups and become an Entrepreneur.